Internet is a crazy source of information. I saw lots of recipe photos in different containers. Verrines, bowls, glasses, jars …
And I admit that the recipe in the jar type "The Perfect" is really nice.
I thought that I too could do it 🙂 And that's what I did 🙂
A corn salad in jar, with other ingredients too.
I wanted a colorful salad.
Because I think I know we are in summer ..
Ok the weather tells us the opposite so we will have a little sun at least on the plate.
In the jar actually …
I used Green Giant Corn from the ephemeral "My Harvest" collection for this recipe.
It is a selection of sweet corn certified Origine France Garantie, bringing freshness and taste to the salad, variety with young and crunchy grains, slightly sweet, I love.
I give you the recipe …
For 2 peoples
Preparation
15mn
Total duration:
15mn
Origin:
France
My recipe for corn salad in jars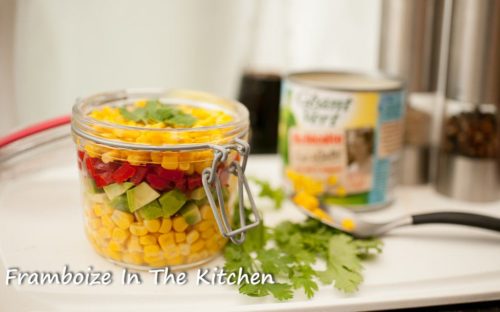 What are we putting in?
1 box of Green Giant Corn
1 ripe avocado
1 red pepper
sprigs of coriander
salt and freshly ground pepper
1 lime, olive oil
balsamic vinegar
How do we do?
Drain the corn. Pass under cold water.
Peel your avocado, and cut it into cubes.
Squeeze your lemon and pour the juice over the avocado cubes
Cut your pepper in half, empty it of its seeds and remove the white parts which make pepper bitter.
Pass it under cold water. Cut into cubes
In a bowl, make your vinaigrette: salt, pepper, balsamic vinegar and olive oil
In your jar, drop a quarter of the amount of corn?
Then half of the cubes of avocado
Then half the cubes of red peppers
And finally complete with corn.
Place some coriander leaves on top.
At the time of tasting, pour vinaigrette into your jar. Close it. Shake well to mix the dressing.
Bon ap'