Summer is fast approaching, and personally there nothing I find more enjoyable than relaxing on the terrace,hiding from the scorching sun under the shade of the parasol and ravishing a deliciously fresh salad …… HOLIDAY BLISS!!!
One of my favorite Summer recipes to make at home is "Roasted Cherry Tomatoes with Mozzarella Burrata di Bufala" a little olive oil, a pinch fleur de sel (Sea Salt) and off to heaven go.
The most difficult thing about this recipe is patients, you have to be patient …
As they say "all good things come to those who wait"
We start by taking the pretty little red, black and yellow cherry tomatoes and placing them on a baking tray then in the oven at 150°C and forgetting them for about 1 hour …
Time for a drink!
I get my Cherry Tomatoes from Grand Frais, my Mozzarella too. I can be sure to get the quality ingredients that I need!!
Because to me there is nothing more sad than a tomato without flavor or a rubbery and tasteless ball of Mozzarella! It pains me just thinking about it.
Fun Facts
Ingredient  : Mozzarella Burrata Di Bufala 
What is it    : A Spun Cheese
Origins        : Apulia region ( Italia )
Source         : Buffalo Milk
Mozzarella is a spun cheese. It comes from Italy and is made with buffalo milk.
I personally have a weakness for burrata di bufala, which is a one of many varieties of mozzarella.
Burrata is a very unctuous cheese,born in the region of Apulia. It is a cheese ball topped with fresh cream, normally made from buffalo milk but it is often found in cow's milk, because its less expensive to produce.
It is preserved in its whey and can be eaten with a simple trickle of olive oil and a pinch of fleur de sel (Sea Salt), A real big pleasure to my palate!!
The idea for Burrata Di Bufala came from a cheese makers desire not to waste mozzarella from the days works, so He decided to garnish his balls of spun cheese with some fresh cream And what a culinary genius idea that was!
we are lucky to have the pleasure to taste it,even more so with the wonderful roasted cherry tomatoes.
This recipe was inspired by the amazing and fresh ingredients at Grand Frais
I am one of their most loyal customers…. I guess that would be why Grand Frais naturally chose me as an ambassador this year 😉
For 4 peoples
Preparation
10mn
Baking
1h20mn
Total duration:
1h30mn
Origin:
Italy
Roasted cherry tomatoes and mozzarella burrata di buffala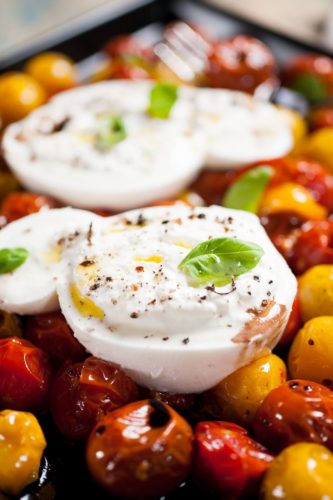 What are we putting in?
400 g red cherry tomatoes
400 g black cherry tomatoes
400 g yellow cherry tomatoes
2 Mozzarella burrata di bufala
2 tablespoons olive oil
4 teaspoons of balsamic vinegar (1 per plate)
1 tablespoon of honey
Some basil leaves
Flower of salt (sea salt)
Grilled pepper
How do we do?
Rinse all the cherry tomatoes. Remember to remove the small green tops off
Preheat the oven to 150 ° C
In a baking tray place a sheet of parchment paper
Put your tomatoes in a salad bowl.   Add olive oil and honey.   Mix well, without piercing the tomatoes, if possible
Put them on the baking tray
Place in the oven for 1H20. Check from time to time that the tomatoes are roasting and not burning.
Once roasted, take them out of the oven. Place them on plates. Pour over a teaspoon of balsamic vinegar, Little bit of pepper.
Drain your mozzarella burrata di bufala. Cut in half and place half per plate Resting the Burrata on top of the roasted cherry tomatoes
Sprinkle with fleur de sel (sea salt) and some small basil leaves
Taste …quickly
Bon ap'